Precise Time Stamps
Ultra Slim ZOE-M8Q GPS Module chip is integrated on board.
RAK2287 card integrates one ZOE-M8Q, one SX1302 chip and two SX1250 chips which represent the core of the device. This provides the related LoRa modem and processing functionalities.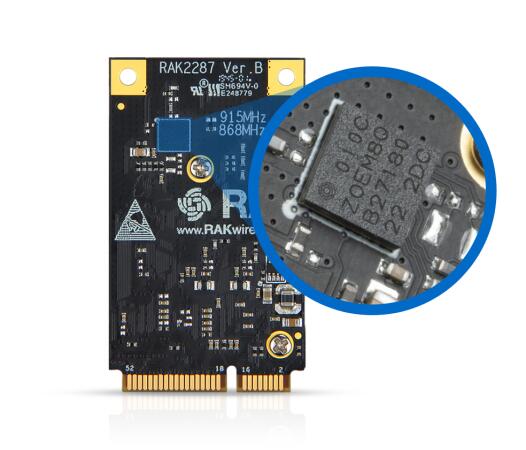 Easy Integration
IIt can detect at any time, any packet in a combination of 8 different spreading factors(SF5 to SF12) and 10 channels, and demodulate up to 16 packets at any time.

It targets smart metering fixed networks and Internet-of-Things (IoT) application

Compact Form-Factor
The board only weighs 9.7 grams, its length is 50.95mm while its width is 30mm. The board width, top-side and bottom-side keep-out areas and all other dimension is defined by PCI Express Mini Card Electromechanical Specification except for the card thickness (nominal value of 3.7mm).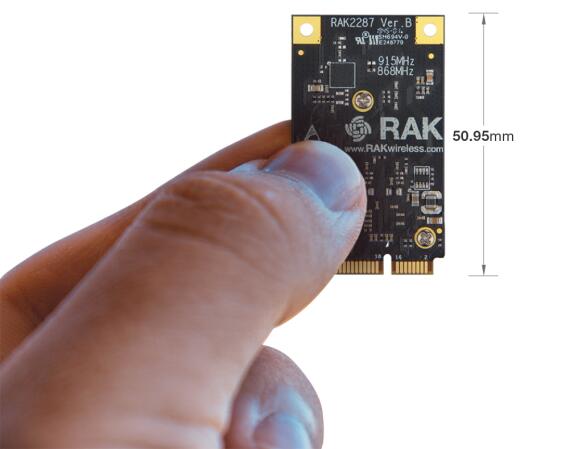 Help Me Choose
Can't decided between RAK2287 or RAK2247?
Here's a quick look at their differences.
| | RAK2287 | RAK2247 |
| --- | --- | --- |
| LoRa Baseband Chip | | |
| Supported LoRaWAN protocol | 1.0.2 | 1.0.2 |
| Baseband processor | SX1302 | SX1301 |
| Receive Power consumption(active mode) | 81.6mA(Typical) | 470mA |
| Transmission power* | 27dBm | 25dBm |
| Receiving sensitivity* | -139dBm | -139dBm |
| ZOE-M8Q GPS Module | | |
*Parameters are tested @ SF12, BW 125 kHz. These parameters changes in difference region to compliance with the local regulatory requirements.